Hybrid conferences are new opportunities! Break down the international barrier!
REGISTRATION SYSTEM
PARTICIPANT
Hybrid conferences are the perfect solution for those who want to maintain a standard conference format with the option of some or all of the speakers via remote connections. It effectively breaks the international barrier, negates the associated costs, and reduces COVID-19 virus emissions.
Get a 10% discount by contacting us via our contact form
We have been doing live broadcasts to the Internet for many years. We have made more than 1,000 streaming sessions. Our equipment is fit for any transmission with any number of cameras and image sources. The best technical solutions ensure a consistent message and communication with the audience. We can do broadcasting to any platforms and communicators.. They are fully secure and playable by viewers on all digital devices. . When needed, we also provide simultaneous live interpretation(in several languages) and sign language interpretation.
Any number of cameras

Multi-language transmissions

Camera crane

In-motion streaming

Mobile studio

Any platforms and communicators

Internet connection

Live broadcasting of materials (films, graphics, subtitles)

Sharing presentations

Replay system

Streaming servers and restricted access

Live language interpreting

Reports and analyses
We do streaming to the most popular services and communicators:
REMOTE CONNECTION
WITH SPEAKERS
We are aware that speakers and their talks or presentation are among highlights of most conferences. Using the latest technological solutions, we are able to seamlessly broadcast the connected speakers on the broadcast image, maintaining the naturalness and dynamics of the transitions between the speakers. Drawn from years of experience, we also instruct speakers on how to prepare for remote conferences correctly from a technical point of view, covering areas such as sound, lighting, room and camera positioning, etc. With us, you can also run remote connection tests before going live.
Several speakers connected at the same time

Remote connection testing
Graphic design is an important element of events, particularly at hybrid conferences, which sometimes influences not only the aesthetics themselves, but also facilitates the reception of the content conveyed. We are fully aware of this, which is why we always take an individual approach to each event, as well as the client, creating new and unique projects together all the time. Our offer is also enriched by the possibility of creating animations and videos.
Consistent graphic design concept

Graphics (subtitles, boards, backgrounds)

Animations

Video
PARTICIPANT REGISTRATION SYSTEM
The participant registration system – JOINT TO EVENT is our in-house solution that has already proven itself at many demanding conferences and congresses. With our system, participants receive end-to-end service from registration to the closing of an event, including:
registration of arriving guests,
On-the-spot/ at the venue printing of automatically generated identifiers/badges,
control of access to selected areas for participants, organisers, visitors,
selection of attractions and panels by users,
rapid e-mail and text messaging to participants,
mailing attachments, commercial offers,
reporting and generation of a list of people at selected locations and times.
Twojewydarzenie.online is a completely new dimension of conferences allowing you to move most of your event processes on-line. The platform we have created is dynamic and functional and offers lightness of delivery, while maintaining all content values.. Its key features include:
access to many stages/rooms,

full customisation,

interactive conference program,

moderated chat,

event stats,

security,

registration and payment,

expo zone.
Multimedia equipment is certainly an integral part of hybrid conference service. In order to increase the prestige and importance of the event, more and more people are relying on modern solutions such as a modular LED screen or a multimedia lectern. With its dimensions, the LED screen far exceeds the projection capabilities of standard projectors or monitors used to date and makes the event perceived in a completely different, much more original way. The hybrid nature of the conference necessitates an online broadcast in which professional cameras are essential. Depending on their number and location, the image from them can be more or less dynamic.
LED SCREENS
Multimedia lectern
Projectors
Display screens
Cameras
Laptops
Vision mixer operator
A professionally organised event should also come with additional image media. Apart from the visual and aesthetic aspect of the stage,they also support the progress and course of the event itself. The monitors can be used as a preview of the broadcast screen, script, presentation, panel time or speaker windows connected remotely, as well as set up on tripods in front of room entrances or in the lobby and display selected conference content (programme, sponsors, presentations, etc.) on them. When a large number of participants are anticipated at a conference, we offer additional screens to the audience room with live video to eliminate visibility problems.
A proper sound system is the basis of any conference. There is no denying that it is the verbal message that is the most important part of them, and its clarity and comfort can only be ensured by high-quality equipment. Our experienced sound engineers each time individually adjust the number of sound points on a case-by-case basis to the size and layout of the conference room, as well as the number of participants.
Loudspeakers, line systems
Microphones
Audio mixers
Sound mixers/engineers
During the conference, it is worth ensuring that speakers and presenters have good visibility. It requires the right design of the stage (or its elevation). Because of its size and specificity of the event, the stage can be created in any size and at different heights. In addition, each of the stages also has an overhang and can be covered with carpeting in the colour of your choice and, to add to the exclusivity of the event, a glossy hyps.
Stage of any size and height
Overhang
Carpeting
Glossy hyps
Lighting effects provide the perfect setting for any type of event. At conferences, galas and corporate events the play of light is of great importance in the perception. It translates into the quality of the event and emphasises the mood of the event. A room with the right lighting not only guarantees good visibility, but is very much a decorative element. This is why we fully adapt the lighting and its colour scheme to the nature of the event, taking into account the clients' preferences.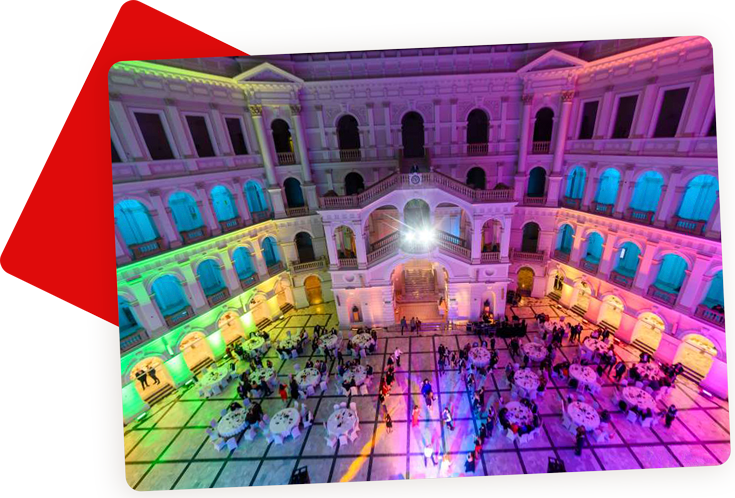 Architectural and decorative lighting
We decorate interiors as well as building façades with light. We choose the right amount and type of light to achieve the best possible effect. We also have equipment that uniquely decorates stages. All are equipped with options to customise the appropriate colour scheme and provide full control during the event.
Impressive and conference lighting
High-end moving light points allow the creation of an amazing visual spectacle. Conferences equipped with such lighting will be certainly long remembered by their participants, in particular if they feature an artistic performance.
AT A LOSS AS TO HOW ORGANISE A STUDIO?